Prominent Law Firm Aird & Berlis LLP Picks Diligen to Modernize the Practice of Law Through AI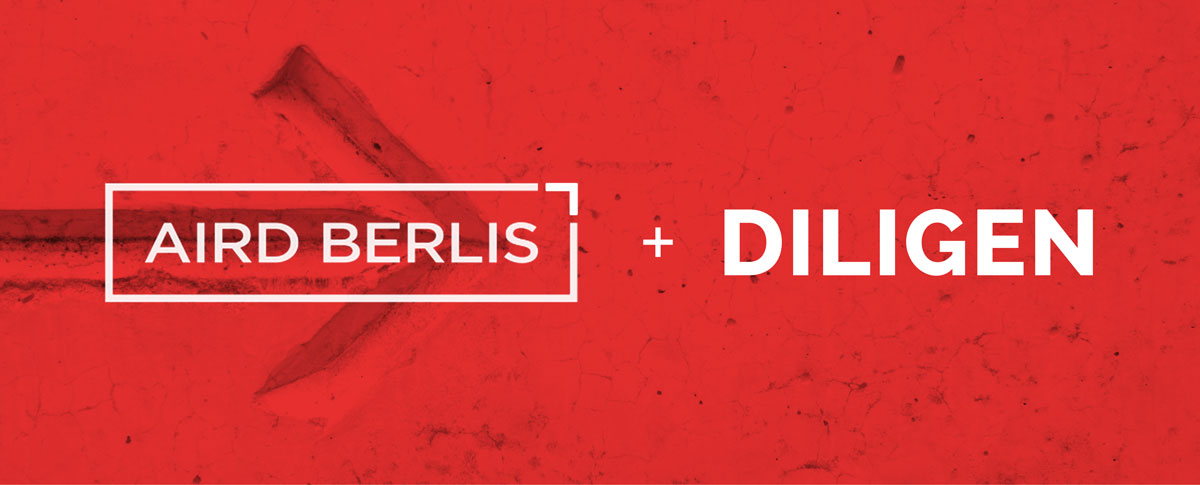 As featured in GlobeNewswire.
TORONTO, Dec. 12, 2017 -- Diligen, a leader in artificial intelligence (AI)-based contract review for law firms and legal teams, announced today that it has been selected by Aird & Berlis LLP, a prominent business law firm based in Toronto. Aird & Berlis intends to use Diligen to drive efficiencies and deliver enhanced value to its clients by leveraging AI for merger and acquisition (M&A) work, as well as real estate transactions.
Diligen is a contract assistant powered by AI that provides high quality contract review to help lawyers stay one step ahead in a time-sensitive, highly competitive legal marketplace. Using machine learning, Diligen cuts contract review time in half by streamlining the end-to-end process of sorting documents, summarizing contracts, and spotting critical provisions. In studies conducted by Diligen, the Diligen platform increases the accuracy of contract analysis by 80% compared to a lawyer manually reviewing contracts alone.
"We are excited to collaborate with Aird & Berlis, a leading law firm and an early adopter of cutting-edge AI technology. This win represents a fundamental shift in how legal firms can modernize the manual, painstaking contract review process," said Konrad Pola, Founder and CEO of Diligen.  "We are proud to partner with Aird & Berlis, and we're confident that, by using Diligen, Aird & Berlis and its clients will realize significant benefits."
"The legal profession is often seen as reluctant to embrace change, but Aird & Berlis is making innovation a priority. Our leading M&A and real estate practitioners will be leveraging Diligen to drive efficiencies and deliver enhanced value for our clients," said Steven Zakem, Managing Partner at Aird & Berlis.  "We believe that AI will play an increasingly prominent role in the delivery of legal services and are thrilled to be collaborating with Diligen."
Further Collaboration Between Law Firms and Legal Tech Companies
In the interest of further collaboration, Aird & Berlis will be seconding Aaron Baer, one of its talented M&A lawyers, to work side-by-side with Diligen's developers and designers on developing new use cases, shaping the product roadmap and training Diligen's system to identify additional legal concepts. Diligen will benefit from the real-world insights of another practicing lawyer, and Aird & Berlis will gain perspective on the emerging legal tech ecosystem.
About Aird & Berlis
Aird & Berlis is one of Canada's premier business law firms. Aird & Berlis provides strategic legal and business advice in all principal areas of business law, including corporate finance, banking, insolvency and restructuring, energy, environmental, infrastructure/P3, technology and intellectual property, litigation, workplace law, municipal and land use planning, real estate and tax. For more information about Aird & Berlis, please visit airdberlis.com.
About Diligen
For law firms and legal teams, Diligen reduces the burden of painstaking contract review and allows lawyers to focus time on work that requires judgement. Diligen helps firms show their customers that they are trimming the fat on monthly billable hours by reducing time spent on due diligence and contract review.  Diligen allows law firms needing to manage costs on fixed rate projects to focus on adding value to clients without writing off thousands of hours on contract review. Diligen augments manual contract review processes for faster, higher accuracy results. Diligen allows small legal teams to tackle the increased volume of contract review without adding additional resources or requiring current resources to work around the clock. Diligen enables junior associates to focus on higher billable tasks without compromising the speed or quality of critical contract review work.  For more information about Diligen, please visit www.diligen.com.
Media Contact: Heidi Davidson Galvanize Worldwide for Diligen Heidi@GalvanizeWorldwide.com (914) 441-6862
Originally published on Econotimes, by Press.