Lex Mundi Partners With Diligen To Offer Artificial Intelligence Contract Review Tool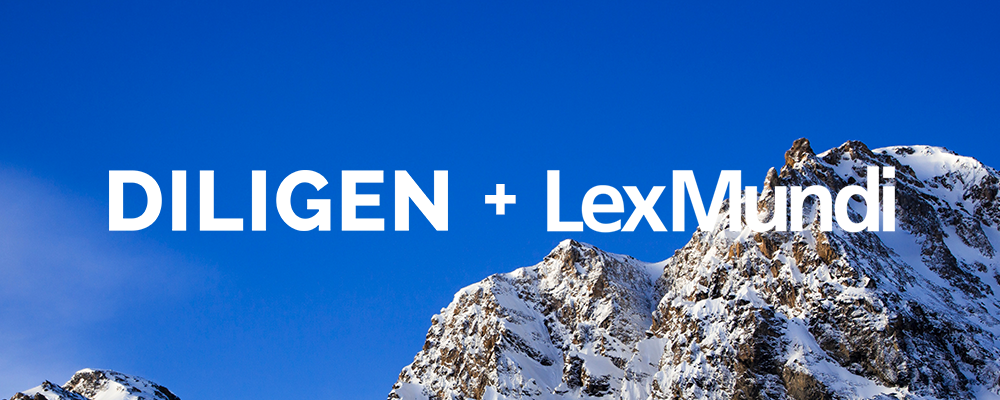 The latest partnership with Lex Mundi brings Diligen's AI to one of the largest global network of law firms.
TORONTO, Dec. 13, 2018 -- Diligen, an award-winning artificial intelligence (AI)-based contract assistant, announced a partnership today with Lex Mundi, the world's leading network of independent law firms. Lex Mundi's 160 member firms will be able to leverage Diligen's AI and machine learning capabilities to review contracts faster and more accurately, thereby improving workflow efficiencies and gaining competitive advantage.
Lex Mundi member firms that conducted use case trials over the last six months, including Jankovic, Popovic & Mitic (JPM) and Simpson Grierson, found that using Diligen to analyze and sort documents—extracting information quickly and easily—took some of the drudgery out of the otherwise manual work.
Using the latest machine learning algorithms, Diligen allowed JPM to review thousands of complex documents at a time, streamlining legal diligence and freeing its associates to do less mundane work. The firm estimated that the technology provided the team with average time-savings of 25% and sometimes cut hours by 30% to 40% depending on number, structure, and complexity of documents.
JPM's Managing Director, Nemanja Stepanovic said, "Technology in the legal field now has the ability to help us achieve greater efficiency, completing review in less time and at a competitive price. It saved us time and cut labor, at times allowing us to do in five days what used to take two weeks."
Increased technology demand from Lex Mundi member firms
"In a recent survey of member firms, we found that 86% strongly believed that law firms that are more innovative users of technology will have a competitive advantage. As an organization, we place great importance on helping our member firms drive change through continued innovation," said Gordon Vala-Webb, Senior Advisor, Technology and Innovation at Lex Mundi. "Diligen fulfilled our key needs from both a product and service perspective. It's a natural technology offering for those looking to change the way they approach the tedious and manual contract review process."
"As a former practicing lawyer, I saw a big opportunity to help law firms overcome some of the manual processes and procedures that often hindered their ability to differentiate. AI enhances the work that lawyers do so that they can get back to practicing law in a more strategic way," said Konrad Pola, Co-Founder and CEO of Diligen.
Diligen was named as one of the AI leaders for 2018 by The National Law Journal. The company was also identified by Analytics Insight as one of The 10 Most Promising Artificial Intelligence Companies, and was a finalist in the 2018 AI Legal Challenge sponsored by The Ontario Ministry of the Attorney General and the Legal Innovation Zone.
For more information about the Diligen, Lex Mundi partnership visit https://www.diligen.com/.
About Diligen From small legal teams to the largest law firms and corporations in the world, Diligen is a contract assistant powered by AI that provides high quality contract review, helping to cut review time in half by automatically identifying key provisions, generating summaries and helping teams manage the contract review process. Diligen's AI platform has been trained by experienced lawyers and allows legal teams to tackle the increased volume of contract review without adding additional resources, or requiring current resources to work around the clock. For more information about Diligen, please visit www.diligen.com.
About Lex Mundi  Lex Mundi is the world's leading network of independent law firms with in-depth experience in 100+ countries. Lex Mundi's member firms offer clients preferred access to more than 21,000 lawyers worldwide. Working together through Lex Mundi's global service platform, members seamlessly handle their clients' most challenging cross-border transactions, matters and disputes. For more information visit, https://www.lexmundi.com/lexmundi/default.asp.
Media Contact: Shannon Wojcik Galvanize Worldwide shannon@galvanizeworldwide.com (585) 831-6267