Diligen Partners with NetDocuments Bringing Faster, More Accurate Contract Review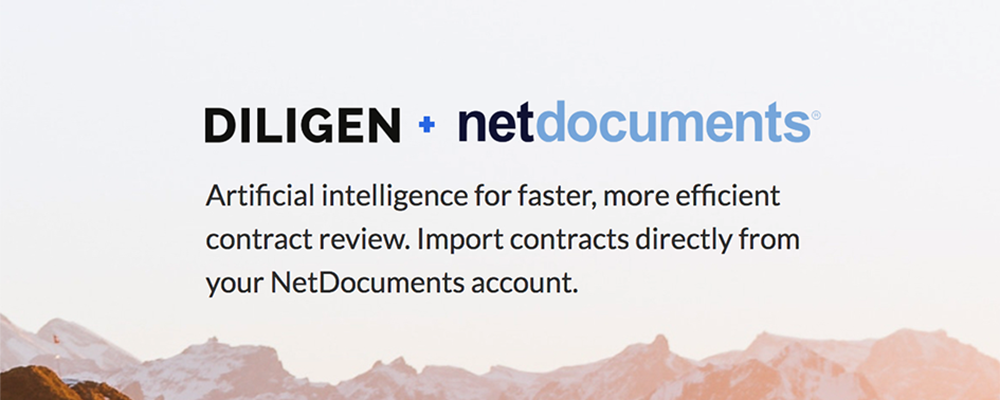 Key integration grants NetDocuments users native access to Diligen's AI and Machine Learning tools.
SALT LAKE CITY and TORONTO, Nov. 15, 2018 -- Diligen, an award-winning artificial intelligence (AI)-based contract assistant, today announced new native integration with NetDocuments, the leading secure cloud-based content services platform for law firms, corporate legal teams and compliance departments. The integration, available globally today, allows customers to simply and securely summarize and analyze legal documents using Diligen's AI and Machine Learning tools resulting in faster, more accurate contract and business document review.
Diligen eliminates the tedious manual work tied to contract analysis by helping lawyers identify critical provisions and sort and summarize contracts automatically. This new integration brings the machine learning expertise of Diligen into NetDocuments so that documents can be analyzed without ever leaving the secure NetDocuments ecosystem. This allows CIOs to balance their need for security while giving lawyers tools for faster, higher quality contract review.
"Diligen has impressive performance and scalability, and its intuitive user experience makes it easy for CIOs to support the needs of their lawyers," said Josh Baxter, CEO at NetDocuments. "We're ready to introduce Diligen to our customers in the NetDocuments AI Marketplace and are confident that they will be able to see immediate value."
NetDocuments' AI Marketplace is open to software and technology providers to deliver embedded machine learning functionality for an improved understanding of matter, contract, and transactional content across NetDocuments' global customer community.
"There is tremendous interest from law firms to adopt AI technologies and review contracts more efficiently. Our integration will allow NetDocuments' customers to leverage contract review technology easily and securely," said Laura van Wyngaarden, Co-Founder and COO of Diligen. "From the very beginning, the NetDocuments team understood the power of the Diligen platform and were a great fit as the NetDocuments platform has the same high standards of security and ease of integration as Diligen does. We are committed to freeing up legal and business professionals from tedious review processes, by making contract review faster, more efficient and more accurate."
Diligen was named as one of the AI leaders for 2018 by The National Law Journal. The company was also identified by Analytics Insight as one of The 10 Most Promising Artificial Intelligence Companies, and was a finalist in the 2018 AI Legal Challenge sponsored by The Ontario Ministry of the Attorney General and the Legal Innovation Zone.
For more information about the Diligen and NetDocuments partnership visit: diligen.com/netdocuments.
---
About Diligen From small legal teams to the largest law firms and corporations in the world, Diligen is a contract assistant powered by AI that provides high quality contract review, helping to cut review time in half by automatically identifying key provisions, generating summaries and helping teams manage the contract review process. Diligen's AI platform has been trained by experienced lawyers and allows legal teams to tackle the increased volume of contract review without adding additional resources, or requiring current resources to work around the clock. For more information about Diligen, please visit www.diligen.com.
About NetDocuments NetDocuments is the leader in secure cloud-based document management, email management and collaboration software solutions. Founded in 1999, with more than 2,500 enterprise customers worldwide, NetDocuments is the trusted cloud-based content services and workflow platform for lawyers and knowledge workers, complete with built-in security, compliance, information governance, disaster recovery, matter centricity, enterprise search, mobility, records management, and collaboration. For more information about NetDocuments, please visit http://www.netdocuments.com.
Media Contact:
Heidi Davidson Galvanize Worldwide for Diligen heidi@galvanizeworldwide.com (914) 441-6862
Jobst Elster Envision Agency for NetDocuments elster@envisionagency.com (850) 459-4947